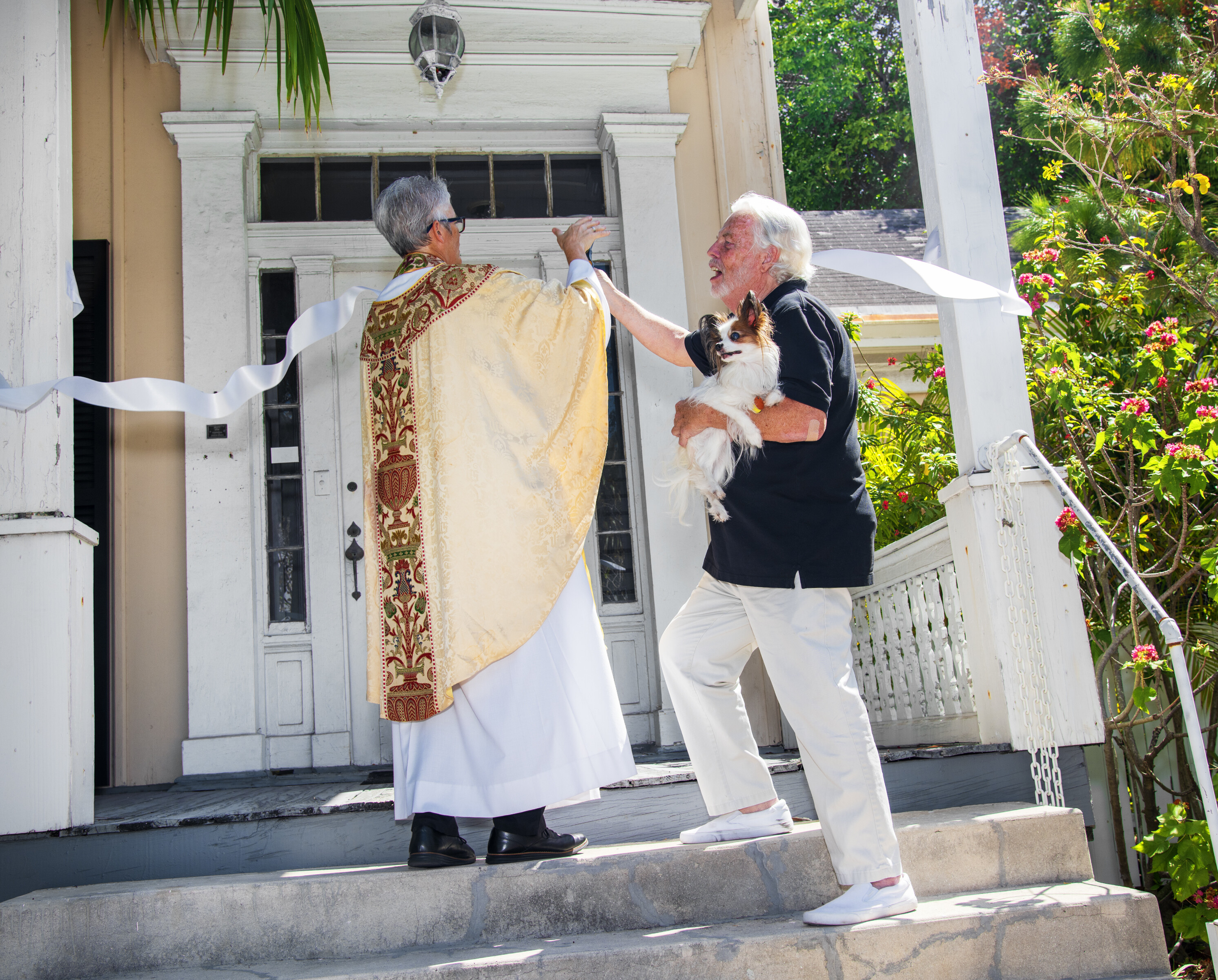 Happy Easter still and yet!
My profound thanks to everyone who labored long and hard and well to make our Easter Day celebrations so wonderful. Hundreds gathered for services and joined in proclaiming Easter and Resurrection.
Following the festive Eucharist at 10 AM, it was an absolute delight to join Kip Colligan in cutting the ribbon in front of the 1857 rectory to celebrate the beginning of the restoration of one of the oldest houses remaining on Key West.
Kip has committed $600,000.00 for this restoration project in memory of his beloved spouse, Tiffany Hendry, who died in 2022. In recognition of this amazingly generous gift, the historic rectory will be known in perpetuity as Kipany House. Tiffany was a member of the historic rectory restoration committee some years back, and her committee service is among the reasons this restoration project is a fitting memorial for her.
The Great 50 Days of Easter thus far have seen the completion of the new roof for Kipany House. We hope to complete all the work within a two-year time frame, weather, workers, and materials allowing.
Subsequent pieces of the restoration work will include restoration of the front porches, reconstruction of the side porch, new soffit and fascia, new plumbing and wiring, new windows, creation of 2 new restrooms accessible from outside and a ramp to them, modification of old rector's study/conference room to a multi-purpose space that provides accessible accommodation on the first floor, modification of the second floor to create additional sleeping spaces, a kitchen update, a deck over the cistern connecting to the kitchen via the (already) restored French doors, and any remaining foundation work.
The Great 50 Days of Easter are the second half of the Great 100 Days that began on Transfiguration Sunday. This seven-week interval is known as a week of weeks and takes us right up to Pentecost Sunday. I spent my Easter Week vacation delivering food and medicine to our siblings at San Juan Evangelista Iglesia Episcopal in Coliseo, Matanzas, Cuba. These gifts of over 100 pounds of powdered milk and some 6,000 vitamins were made possible by your Ash Wednesday alms. And the joy they brought to the folks in Coliseo was every bit as great as ours on Easter Day in Key West.
Let the Resurrection joy continue as we continue in the risen life of Christ our Savior.